This is a Sponsored post written by me on behalf of VTechKids for SocialSpark. All opinions are 100% mine.
When I was offered the opportunity to try out the Switch & Go Dinos from VTechKids, I knew only one thing, Jude would be mad if I passed it up. We are talking Dinosaur Transformers here, the kid was in heaven.  He may have even ran out the door to great the Fed Ex lady when they arrived because he was just a little excited. 
We got to play with the Switch&Go T-Rex and the Switch&Go Triceratops which was amazing because otherwise my kids would have argued over whose turn it was :) Instead they choose their favorite and were off playing just as soon as the box was opened. 
Both kids LOVED the Switch&Go Dinos. I mean there is not much better than a race car and dino in one. Jude instantly had fun switching between car and T-rex and making "made up" creatures in the in between stage which was great to see what his little imagination would come up with. 
Jude found it really easy to morph between Car and Dino
Just a few quick shifts and his "King of the road"....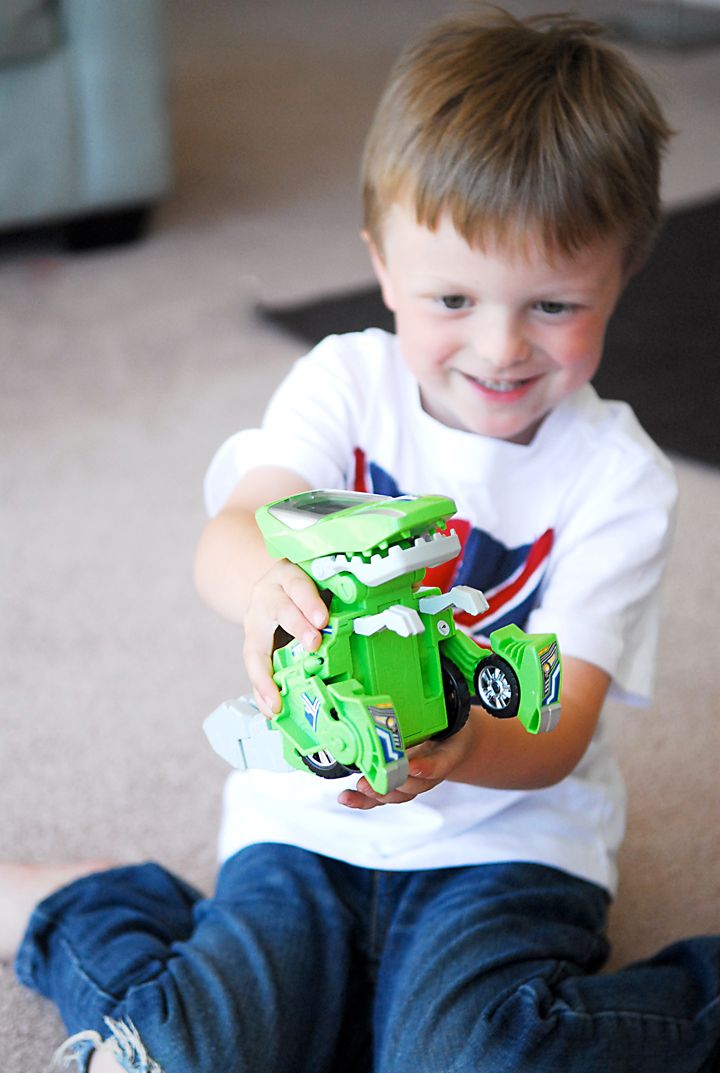 Became the "King of Dinosaurs". The kids played with the new toys for the rest of the day and it was the first thing they went to the next day. We are on day three and they are still going strong which is more than I can say about any other toy we have ever gotten them before. The biggest bonus is that you know because it is VTechKids that the Switch & Go Dinos are also educational. There are easy to use buttons on the toy that allow each child to interact with the toy. In the Dino stage they learn fun facts about each dinosaur from what kind of dinosaur they are to what they eat and live. There are up to 30 different fun facts to learn about dinosaurs and a fun LCD screen that has customizable animation. My kids loved changing up the dinosaur eyes. 
In the car mode the child can simply push a button to change up the driver and get ready for a fun race as the car talks to them.  There was nothing better then hearing my kids learn while they play. Jude has already shared some of the fun facts he learned about the T-Rex. 
So here is my breakdown:
Switch & Go Dinos are really fun toys that my kids (both 3&5, boy&girl) loved. They are big enough that you don't have to worry about small pieces breaking off, but they are still small enough that they are not taking up too much room. 
Because they morph from a car into a dinosaur it was really like getting to great toys in one, and the answer to any little boys dream. 
They are educational but in a really fun way with fun voices and the interactive screen and buttons the kids loved them without feeling like they were learning. 
There are seven unique dinosaur/ car toys available and they start at just $15.99 so you get a great toy for the value. 
Jude could very easily transform the toy from Dino to car and back again, Abbey needed a little help, but both kids loved it just the same and Abbey was picking it up fast. 
Where to find them:
The 4 starter Dinos: Silver T-Rex, T-Don the Pteranodon, Tonn the Stegosaurus, and Horns the Triceratops will be on sale beginning May 21t exclusively at  Amazon for a suggested retail price of $15.99
Beginning June 18 the Switch & Go Dinos will be on sale at VTechKids.com for a suggested retail price of $15.99 
So if you have a little boy (or girl) who loves cars and dinos then this is the perfect gift, or reward for them! 
Jude is already working hard on his chore chart so he can earn another one for his collection.  Do you have someone special who would love one? Which one would be the winner at your house? For us the T-Rex ran supreme.